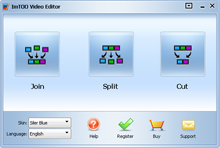 ImTOO Video Editor is powerful video editor software comprising functions of Video Joiner, Video Splitter, and Video Cutter. Using this video editor software, you can accomplish almost all common video edit works with high image quality output. For example, the video editor can help you join multiple video files into a new one, split one file into several segments, or merge your favorite video segments which are cut from one video as another one easily and fast. This video editor software supports editing video files such as AVI, MPEG, WMV, MP4. It's your best choice to edit your videos.
Key Functions
Video Joiner – join multiple video files to one file
ImTOO Video Editor can edit video files as a video joiner tool to add multiple video formats to be joined and combined to one file in comprehensive video formats including AVI, MPEG, MP4, WMV, DAT (the video format used in VCD), 3GP, H.264/AVC, H.264/PSP AVC, MOV, ASF, etc.
Video Splitter – split AVI, MPEG, and WMV to several video segments
You can use this video editor software as video splitter like AVI splitter and AVI MPEG splitter to split one file to several video files manually or automatically.
Video Cutter – get a clip you need
ImTOO Video Editor can cut video segments as you like from one file. In other words, this powerful video editor software makes it easy to cut out all segments you don't need from the original video file freely.
Key Features
- Preview is supported for you to preview the original and output files.
- With the video joiner function of ImTOO Video Editor, you can add many kinds of video formats at one time, and the output file will be one of the input formats.
- When joining all your files, you can set video size, frame rate to get the perfect effect.
- This video editor software allows you to set the resize method to make the output videos in letterbox, pan and scan, or full screen when joining video files.
- The video splitter function helps you split video file manually or automatically. And if you prefer to split automatically, you can specify splitting by time, size, or splitting into even pieces.
- With the video cutter function, you can set the beginning point and ending point super accurately.
- This video editor software offers low priority encoding in background mode for you to customize your video edit to get the best performance.
- "After Done" action is provided to help you designate the status after all your tasks are finished, e.g. do nothing, shut down automatically, keep dormancy status, stand by, or end this program.
- This video editor software offers various skins for you.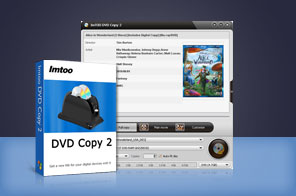 ImTOO DVD Copy Express is extremely easy-to-handle DVD copy software to copy DVD movie perfectly at fast speed. The DVD copying software can copy DVD movie in 1:1 ratio, compress DVD-9 to DVD-5, copy DVD to DVD folder or ISO file, and copy full disc or main movie only. It's your best choice to copy and backup DVD.
Key Features
- This DVD copy software can copy DVD-9 movie entirely to 8.5GB dual-layer recordable disc (DVD+R DL, DVD-R DL) in 1:1 ratio.
- ImTOO DVD Copy Express has higher compatibility than other DVD copy software: copy DVD to any disc including dual-layer DVD with any DVD+RW/-RW burner to play on all DVD players.
- Keep all audios/subtitles, choose one audio/subtitle, or copy DVD without audio/subtitle to copy DVD movie according to your own need.
- Optionally remove menu when copying DVD to ensure the best DVD quality. And you can choose to include and skip menu for playing target DVD disc directly with menu skipped.
- If your inserted RW disc is not blank, the DVD copy software will prompt and help you erase it for rewriting the disc.
- Using this DVD copier to copy DVD movie is so easy: just load your DVD, click "Start Copy", and insert a writable disc, then get your copied DVD disc with great quality.
- The interface languages include English, German, Chinese and Japanese. And several skins are selectable for you.
Size: 2.75 MB