When we think of Windows Mobile apps or check the online reviews of the Best Pocket PC Application we usually come across the same old stuff like Google Maps, Skype, Facebook App, SkyFire, Opera etc. Dont get me wrong these apps are great but there are other hidden gems that are usually overlooked and today we take a look at a few of them in no particular order.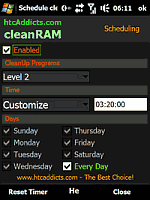 1) CleanRAM [in English] : This nifty little application releases valuable program memory that's no longer being used without having to restart the device. There are 3 levels (Basic purge, Quality purge, Fundamental purge) to perform RAM cleanup.
2) S2U2 : is a simple lock/unlock application which has the iPhone style slide unlocking. It can be used as a screensaver while you don't use your device. It will also shows your calender appointments, missed calls, unread SMS/email etc.
3) SmartLyrics : lets you manually search for the lyrics to any song, it can also automatically pull the lyrics for the song you play on windows mobile using Windows Mobile Media Player or in HTC AudioManager. Requires registration.